Don't have time to get your workout in?
Here is a quick 15 minute office workout you can do while you are at your desk. Do some kickbacks while you are talking on the phone, or add some chair squats into your day while you are waiting for an email from your boss, either way you are moving and walking more than you would simply sitting at your desk all day!
15 Minute Office Workout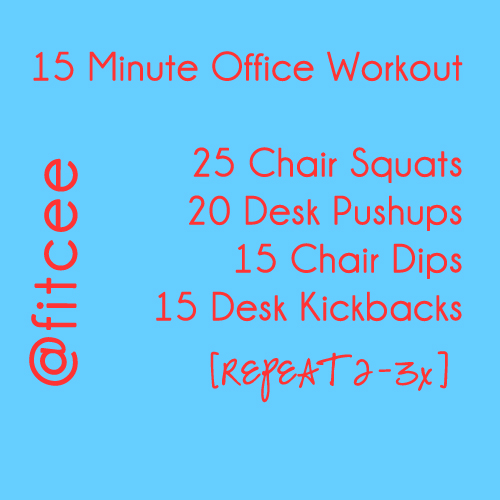 Chair Squats
Start by standing and squat down so that your bum touches the chair and drive your legs back to a standing position. If you have a tall chair and want to get in a deeper squat push the chair back and do a full squat – make sure you aren't wearing  too tight of pants – go to deep and they may rip 🙂
Desk Pushups
*make sure you have a sturdy desk before attempting this.
With your hands firmly on the edge of your desk, and your body at an angle, lower your chest towards your desk and push back up into your starting position.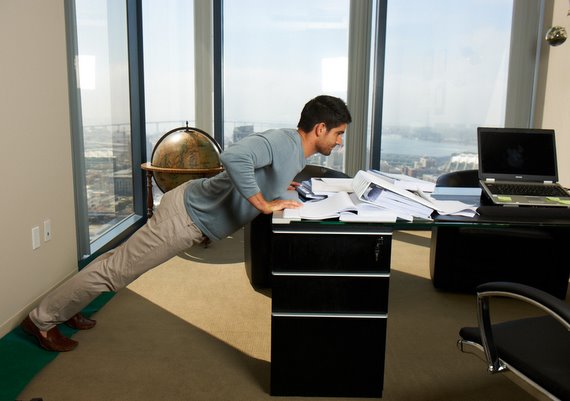 Chair Tricep Dips
Start with the heels of your hand on a sturdy chair and your butt just off the chair. Keeping your hips as close to the chair as possible, bend your elbows and lower yourself towards the floor. Push back up so that your arms are straight. Repeat 8 – 12 times.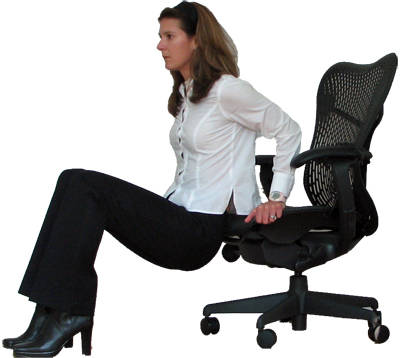 Desk Kickbacks
From a standing position, brace yourself with your desk and kick your right leg back, squeezing your right glute muscle. Continue to lift it upwards for a set of 12. Repeat with left leg. In addition to kickbacks you can raise your leg in the air and draw small circles with your foot while keeping the glute muscle engaged.
During each exercise, always remember to keep your belly button pulled in towards your spine to keep your abs engaged, and never forget to breathe!
Stop sitting around so much in your office and start moving! What are other exercises you do while you are at work?